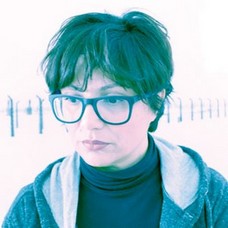 Nata in Calabria nel 1963. Vive e lavora a Roma pur mantenendo forti legami con la terra di origine.
Collabora con il TechnèLab producendo ceramiche d'arte.
Come ceramista è stata selezionata nel 2005 a rappresentare l'Italia al "Carousel des art" Biennale delle arti applicate del Museo Louvre di Parigi.
Art director di Bovarchè, evento internazionale d'arte, da lei stessa ideato necessariamente fuori dai circuiti, per provocazione nel cuore dell'Aspromonte.
Le sue opere sono presenti in numerose collezioni pubbliche e private.

Born in 1963, Angela Pellicanò is hailed as one of Italy's most promising Artists, having started her career as an Artist in 1996 with a Diploma in Pittura, Accademia di Belle Arti di Reggio Calabria. She as enjoyed many solo exhibitions and mixed exhibitions and is in numerous public collections.
Her ceramic works have been selected to represent Italy in 2005 at the "Carousel des art" Biennial Event of the Applied Arts of the Louvre Museum in Paris.
She was recently the lead figure in Bovarchè a international festival celebrating the acceptance of contemporary art in Italy.